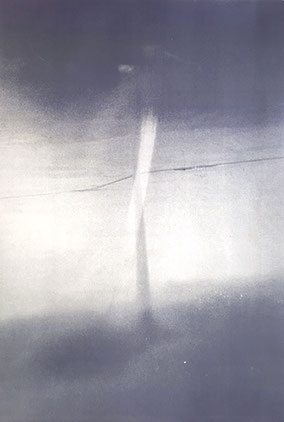 Sharing Water is an Exhibition and Workshop Projekt initiated by Swiss photographer Regina Hügli. She is fascinated both by water as a concrete matter, with its physical qualities and behaviour, and water, flow and circuits as metaphors for processes of consiousness and memory. On this, Regina Hügli has curated two interdisciplinary group-exhibitions and workshops (Reservoir, Rising-up-Flowing-down), and published a book containing scientific and artistic approaches on water and memory. Sharing Water is her third and latest project on water, interdisciplinary again, but shifting the focus to a highly investigative and controversial approach.
By invitation from Regina, Elisabeth Schmirl contributes three large works from her Series "Vanishing Point" to be shown in the Sharing Water project. In her works of diazotypes showing the ephemeral beauty of clouds, she works with images of weather phenomena taken from digital archives. 
Artists taking part in the project are: Stefan Fraunberger, Anne Glassner, Klara Hobza, Barbara Anna Husar, Elisabeth Schmirl and Nieves Widauer.
September/October 2021
Town Museum Králíky, CZ
Opening: September 2nd 2021
19./20. November 2021
Gdansk, PL
Futurological Congress
Gdańsk 2080. Kongres Futurologiczny
December 2021 – October 2022
Talmuseum Ursern, Andermatt, CH
Opening: December 22nd 2021
December 2022 – February 2023
Sala Segantini, Savognin, CH
Pop-Up Presentation
House of Switzerland in Multilateral Vienna (A), OSZE
Opening: 9. Juli 2021, 11.00 a.m. (Soft Opening, Zoom-Event)
Dauer: 9. – 30. Juli 2021